Home Contents Contributors Poetry Prose Serial Art And another thing... Contact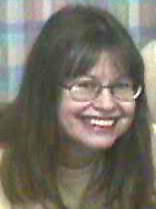 Pamela Ellen Boslet Buskin
Apr. 17, 1945—Feb. 4, 2006
Pam
by John Delin

saw Pammie in a class play in 1953, at Split Rock School, Syosset, Long Island, New York. It was her second grade class performing "Goldilocks and the 3 Bears." I believe she was Goldilocks.
And, also in 1953, she must have been watching as I, 10 years old, came to bat against the Robins, her brother's team. I faced pitcher Rocco Serena, aged 12, on Syosset's first Little League opening day. Her brother Robin was playing first base. To me, Rocco looked like a mean grown-up as I swung in vain at three straight pitches. I'm sure Pam cheered at that! Years later, Pam showed me old copies of the Syosset Advance. One had a 1955 record that showed me fourth in batting at .435. That made me very happy. It made her happy to make other people happy.
Pammie and I loved the Syosset of our childhood. It was a place where one could escape from often difficult life in the home and just hang out all day with other children or alone, leave in the morning and not come home until evening. Later, as shy teenagers, we couldn't wait to leave Syosset and were drawn to, and became part of the Beat/Hippie/Peace generation and the counter-culture of the 1960's. But we never forgot Syosset.
In 2000, Pammie suggested we do a web site with old pictures and memorabilia of this small town where we grew up. After nearly six years, Syosset Scrapbook is rich in personal history and contains over 1500 images, many from Pam's collection (she saved everything). Do a Google search on "Syosset": Syosset Scrapbook ranks only behind the School District, the local newspaper and the Chamber of Commerce. She particularly loved our Guestbook, as people, many now scattered all over the country and world, posted their praise of Scrapbook and often reconnected with each other because of it.
As a rule, she had the ideas and I helped implement them. John: "We can't do that. It's a great idea but impossible." Pam: "Yes we can. You always say that. I'm sure we will figure it out." She was usually right. We made no money and reported to no one. I continue Syosset Scrapbook in her memory.
Pam was a writer, poet and editor. I wrote imagist poetry in the 60's and later wrote occasional fiction and features. In 2000, she suggested that she and I do a revival, on the web, of ken*, Syosset High School's literary magazine. Her husband John suggested the title ken*again. Syosset alumni contributors were rare so we soon went worldwide. Our standards were simple: we published what we liked. ken*again continues in her memory; I publish what I like and what I think she would have liked.
From time to time, I persuaded her to use her own work in ken*again. We archived past issues and some of Pam's fine work is available here including her magnificent novella, Blue Balloons.
In 2002, she was stricken with a return (after eight years) of leiomyosarcoma, a rare and deadly cancer. Even though she subsequently endured major surgeries, radiation treatments and heavy pain medications, she went on with her life with no complaints despite constant pain. Over the next few years, we continued our web projects as if nothing were wrong. I often accompanied her to some of our favorite places: craft shops, discount stores, Home Depot, Costco, yard and estate sales and postcard shows. She had a keen eye for cool things. In one estate sale attic, she found two Norwegian sweaters for me, worth hundreds of dollars, which I bought for five dollars each. Pam and I believed that "being in denial" was very helpful so we rarely spoke of the future.
Two weeks before her death, she wistfully told me, "We had fun." I replied, "Yes we did, but we are still here." Then Pam said, "You are a strange person." My first reaction was to ask, "How am I strange?" But after that loaded question, she just smiled. I added, "Well, I take that as a compliment." She smiled again.
A few days after that, my wife Janis and I visited her. Janis had never seen her wonderful and unique home in WoHo (a name coined by Pam for Montclair, New Jersey). She gave Janis a tour of the house. We then took Pam for a drive. When I said goodbye to her, still denying reality, I told her I would see her soon.
The last time we saw her was in her hospital room on February 2nd and she was in a deep sleep, her family with her. Time and illness could not diminish her intellect, youthful appearance and beauty.
There is only the present, the past is gone and the future is unknown. And memories of her, her achievements and her gifts to others exist in the present. In that sense, Pam is still here with us.